From our school lunches to our work fruit bowl, the humble apple has been by our sides throughout our lives. Let's celebrate its unique flavor in this delicious fruity smoothie.
In celebration of apples
Imagine it: a stroll through a quintessential English orchard. The leaves on the trees are just beginning to turn a russet colour, and the boughs of the trees are laden with juicy apples.
While apples are eaten all over the world these days, they will always have a special association with England.
In fact, Bramley apples - one of the most popular apples available in the UK - all come from one tree which was planted 200 years ago in Nottinghamshire.(1) Today, the Bramley apple industry is worth £50 million! And they said money didn't grow on trees…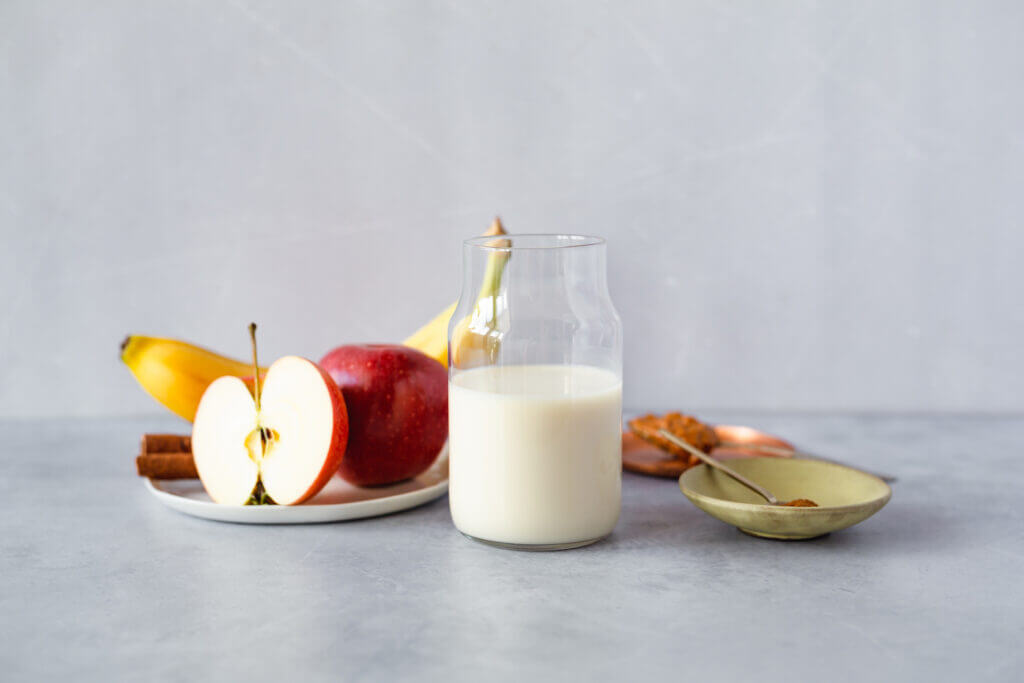 Apple facts
While we love them for their characteristic sharp-sweet flavour and crunchy texture, it's actually very difficult to replicate the 'right' qualities of an apple.
This is because they don't grow in quite the same way as other plants. The seeds from one apple don't produce a replica of the original, because the tree that produced it was pollinated with pollen from another tree. So, each seed can produce a plant which is genetically different from the apple it came from.
How do farmers get over this obstacle? By using a process called grafting. This involves cutting a section of branch from your desired apple tree (the 'scionwood' and binding it to a cut section of 'rootstock' - the base of another tree.
The two branches fuse together, and the upper 'scion' goes on to produce fruit in the desired style.(2)
Amazingly, you can graft several different varieties onto the same tree, to produce what is known as a 'family tree'. This can basically act as a library of different apple varieties, all growing out of the same tree!(3)
An apple a day…
The saying goes that 'an apple a day keeps the doctor away'. But are apples really all that good for you? As it turns out, yes they are!
As well as providing vitamin C and fibre, apples also contain two additional healthy substances: quercetin and pectin.
Quercetin belongs to the flavonoid family of antioxidants and is thought to have anti-inflammatory effects.
Meanwhile, pectin is good for your gut health, prevents constipation and may even help lower levels of 'bad' LDL cholesterol.(4)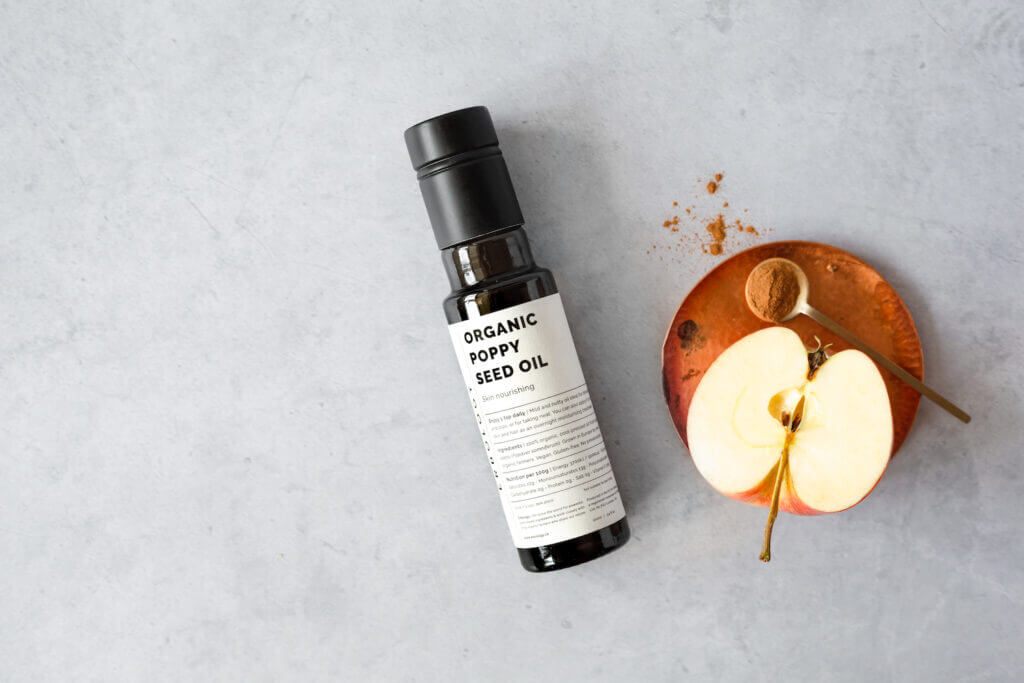 Smoothly does it
Apples are often overlooked in smoothie recipes, but we can't see any good reason for this. They're an excellent way to add natural sweetness, vitamins and fibre to your drink.
Choose a red variety to keep the flavour nice and sweet; green varieties can be quite tart.
Alongside the apple here, we've added banana for body and treated ourselves to a teaspoon of almond butter. This adds flavour, protein and healthy fats. Feel free to substitute for peanut butter, if you're OK with peanuts. The peanut butter and apple combo is tried and tested!
Next, a hint of vanilla brings everything together in a rush of nostalgic, familiar flavours, seemingly adding a little bit of warmth as well.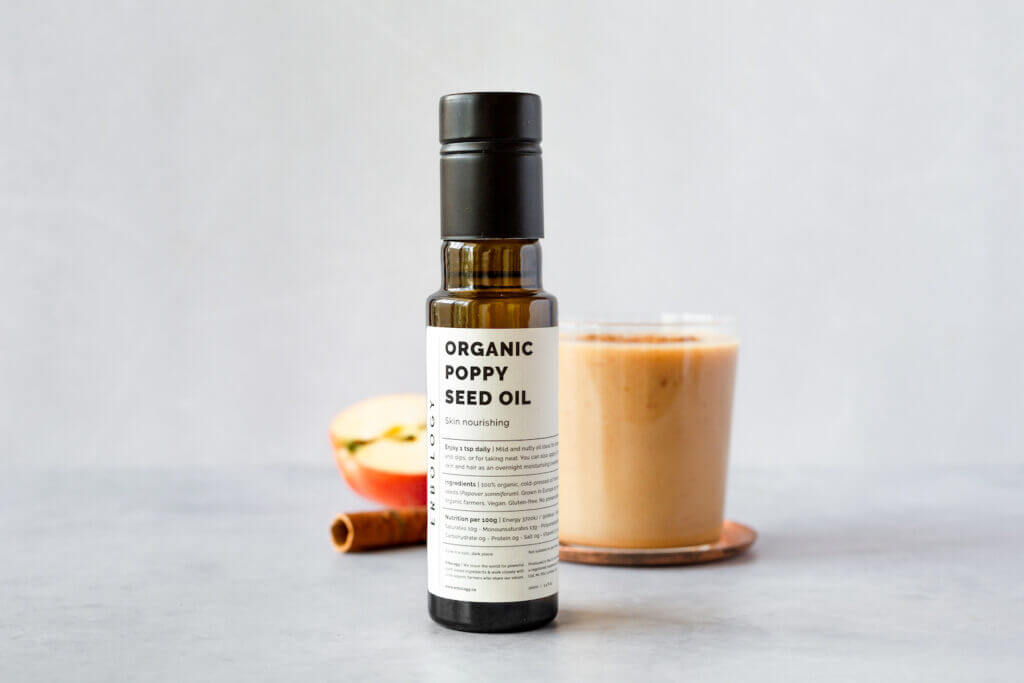 Poppy oil in a smoothie?
At Erbology we're on a mission to get people to include more healthy plant oils in their diets. A smoothie is a brilliant place to include an oil such as poppy seed, as it has a very mild and pleasant flavour which blends well with other flavours.
Why should you choose to add an oil to your drink? There are two main reasons why you should include it in your recipe.
Firstly, it helps to balance your meal, providing healthy unsaturated fats which would otherwise be missing. These are important for heart and brain health.
Secondly, it has its own healthy nutrients to bring along! Our Organic Poppy Seed Oil is rich in vitamin E. This vitamin acts as an antioxidant and cares for your hair, skin and nails. This makes it an ideal addition to your smoothie if you're aiming for glowing skin and silky locks.
Top tips
We love this smoothie as a great way to kickstart the morning. It's bright, fruity and naturally sweet, which is the perfect way to start the day in our book.
While it may be tempting to peel the apple before you add it in, resist! The skin of the apple is where many of the healthy nutrients are, so be sure to keep it on, removing only the stem and pips.
If the weather outside is dreary, we also highly recommend adding a sprinkling of cinnamon to finish this smoothie; it tastes like apple pie in a drink!