Who doesn't love a warm, rustic dessert that's both delicious and good for you? That's exactly what you'll get with this scrumptious and wholesome blueberry cobbler recipe. To dial up the benefits of its fruity filling, we've added a splash of lavender water to the mix. Its delicate floral fragrance is ideal for helping you relax and unwind at the end of the day. Blissful!
A cobbled-together dessert?
Like many traditional dishes, we don't know the exact origins of the cobbler. However, historians and food lovers widely believe that it originated in the US during the 19th century.(1) European colonists had to adapt their classic recipes to fit the ingredients that were available to them in America. The cobbler likely started as a makeshift pie, topped with clumps of biscuit dough and baked over an open fire. It quickly became a firm favorite on the road, eaten for breakfast, main meals, and dessert.
Over time, people created numerous versions of the dish, making use of different local fruits. The blueberry cobbler recipe, for example, arose after Native Americans introduced the berry to pilgrims. Other popular varieties include cherry, blackberry, apple, and peach cobblers. You can even get savory ones filled with vegetables!
This cobbled-together nature of the dish may well be how the dessert got its name. However, it might also be because the rough chunks of dough on top resemble cobblestones.
Cobblers have risen from these humble origins to become a beloved dessert served in restaurants and cafes across the world. And if you want a comforting home-cooked dessert recipe blueberry cobbler is the perfect choice. Colorful, warm, and juicy, it's deliciously satisfying without being heavy or stodgy. On top of which, its main ingredient is bursting with health benefits.
Time to find out more about why this blueberry cobbler recipe is so good for you.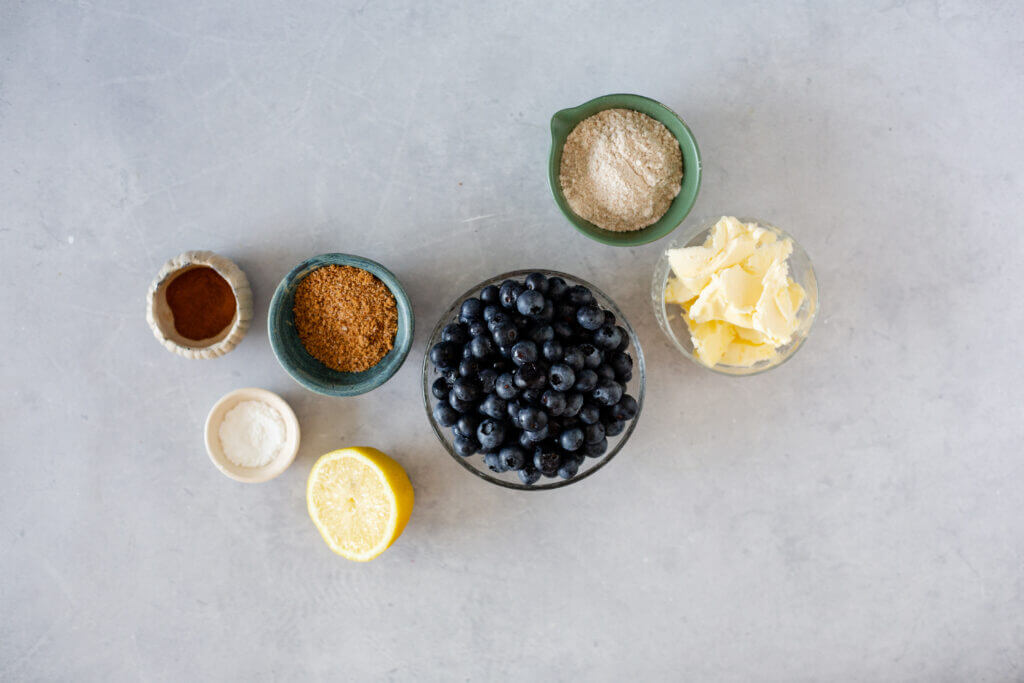 The remarkable benefits of blueberries
Health food enthusiasts frequently praise blueberries for their potential to boost our wellbeing. And excitingly, it seems these tiny purple berries really do live up to the hype.
Blueberries are exceptionally high in antioxidants, which help protect our cells from damage caused by free radicals. Among the most potent antioxidants they contain are phytochemicals called anthocyanins. These are what give the berries – and this blueberry cobbler recipe – their rich color.
Thanks to anthocyanins, blueberries can support the health of your heart in several ways. Research suggests that consuming the fruit could lower blood pressure and reduce arterial stiffness.(2) Moreover, blueberries help to prevent cholesterol from oxidation. All of which decreases the risk of heart attacks and cardiovascular disease.
Anthocyanins might additionally be useful for regulating blood glucose. Eating blueberries can improve insulin resistance and lower blood sugar levels, which may decrease your likelihood of developing diabetes.(3) Studies also show that the fruit is good for your digestive system. Blueberries can reduce inflammation and have a positive influence on the gut microbiota. In turn, this supports the health of your immune system.(4)
Research further indicates that blueberries can reduce muscle damage after working out and aid post-exercise recovery.(5) That sounds like a fantastic excuse to tuck into a blueberry cobbler recipe after hitting the gym!
Interestingly, consuming blueberries could also be beneficial for your brain. Studies have found that eating the fruit may improve cognitive functions and delay mental ageing.(6) The berries could even support your vision and eye health by improving blood and oxygen flow to the eyes. That's a lot of good reasons to whip up this blueberry cobbler recipe!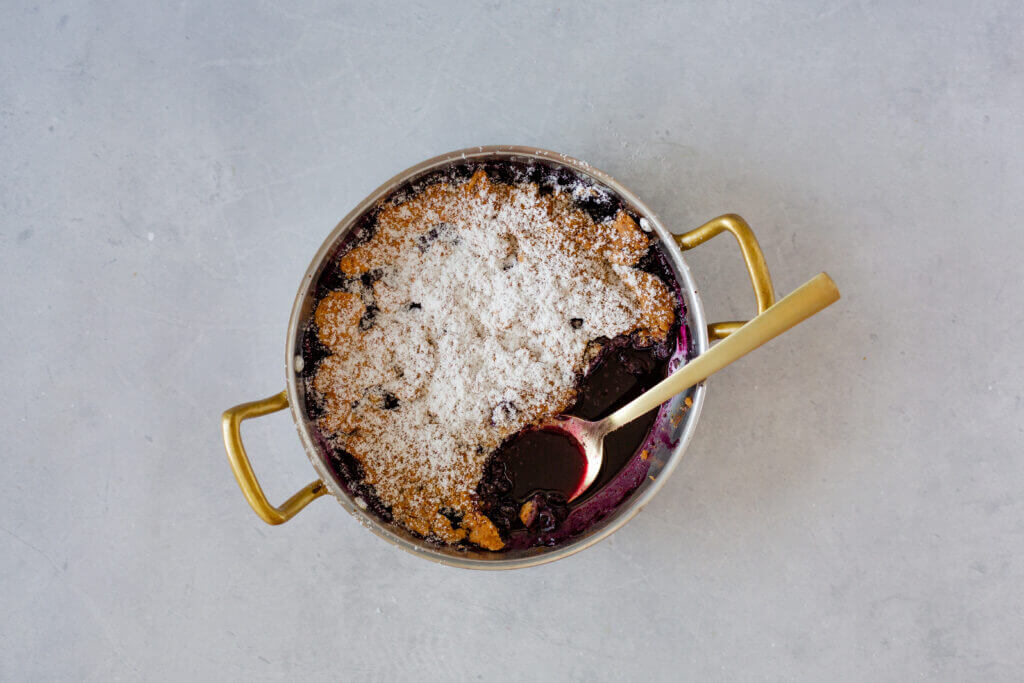 Warm and wholesome: our recipe for blueberry cobbler
Now you know more about this dessert and its potential health benefits, let's move on to the recipe details. You'll be pleased to hear that we've made this blueberry cobbler easy to bake – without compromising on taste!
First, you'll make the topping for this blueberry cobbler recipe. Add the all-purpose flour and whole wheat flour to a bowl, along with the coconut sugar. Next, sprinkle in the baking powder and sea salt before giving it all a good stir. After that you'll mix in the vegan butter, then pour the soy milk on top. Feel free to substitute this with another type of plant-based milk if you prefer! Combine everything together with your hands until you get a soft doughy consistency, then set the bowl aside.
Now it's time to whip up the blueberry cobbler recipe filling. Grab a pan and pop in the blueberries, coconut sugar and ground cinnamon, plus a splash of lemon juice for some citrusy freshness. Finally, spoon in the lavender water. More on this special element later!
Stir the ingredients together until they're evenly distributed, and then you're ready to add the dough on top. Flatten out the mixture into rough disks and use them to cover the filling. Don't worry if there are small gaps – it's all part of the rustic charm of a blueberry cobbler recipe!
When it's fully covered, bake the dish at 175°C for about 30 minutes. The filling should be piping hot, and the top a beautifully rich golden-brown. Then all that's left to do is dish! Use a serving spoon to scoop your blueberry cobbler recipe onto plates. Finish things off by dusting a little coconut flour on top, and tuck in!
Super spice: the health benefits of cinnamon
Most of us are familiar with the gorgeously sweet and warming taste of cinnamon. But did you know it also brings some impressive health benefits of its own to this easy blueberry cobbler recipe?
First, like blueberries, cinnamon possesses potent antioxidant and anti-inflammatory properties. Experts link both chronic inflammation and oxidative stress to a host of harmful conditions, from arthritis to cancer. That makes this a key advantage to adding cinnamon to your blueberry cobbler recipe.
This smoky spice is additionally good for your cardiovascular system. Studies indicate that cinnamon may work to lower blood pressure and cholesterol levels, reducing the risk of heart disease.(7) It might even offer neuroprotective effects, although further research is required to clarify this.
There's also evidence to suggest cinnamon can improve insulin sensitivity and blood sugar control. The spice could decrease the amount of sugar that enters your bloodstream after eating, plus boost the uptake of glucose into your cells.(8) All of which helps reduce the risk of conditions like diabetes.
So, it's no surprise people prized cinnamon for its medicinal properties long before the creation of this blueberry cobbler recipe! However, it's not the cinnamon that makes our version of this dish unique. That particular accolade goes to the lavender herbal water. Let's find out more.
Let lavender soothe your soul
Lavender is perhaps most famous for its positive influence on our sleep and its ability to promote relaxation. Studies show that simply inhaling the plant's delicate floral fragrance could improve the duration and quality of your slumber.(9) Using lavender oil or water could therefore be an effective natural alternative to medication for people with mild sleep disturbances.
Given how important sleep is for our mental and physical health, it's impossible to overstate the importance of this benefit. And treating yourself to this blueberry cobbler recipe after dinner could be a great way to harness lavender's sleep-enhancing powers.
One reason that lavender may boost sleep is because of its capacity to reduce stress and anxiety.(10) This is true for both people with anxiety disorders, and those in one-off stress-inducing situations like visiting the dentist.(11) Not that we suggest tucking into a lavender blueberry cobbler recipe before your next dental appointment!
While not an instant cure, lowering your stress levels should make it easier for you to fall asleep. Interestingly, lavender might also be able to increase the amount of deep or slow-wave sleep you get.(12) This phase of slumber is especially important for repairing and restoring the mind and body, so it's vital we have enough of it.
In addition to enjoying lavender water in this blueberry cobbler easy recipe, you can use it for sleep-enhancing aromatherapy. For example, try spritzing some on your duvet and pillow before bed to help you drift off more easily. Alternatively, pop some into a diffuser to fill your bedroom with lavender's calming scent. You could even sprinkle some into the bath for relaxing spa vibes!
Beyond relaxation: other uses for lavender
Promoting sleep and feelings of calm may be lavender's most well-known strength, but it's far from the only one.
For instance, the plant could do wonders for your skin. It's rich in potent polyphenols which have antioxidant properties, protecting your cells from oxidative damage. Lavender may also fight signs of ageing, like fine lines and wrinkles. Moreover, it can tighten your pores and firm up your skin, giving you a more youthful and glowing complexion.
In addition, lavender is naturally anti-inflammatory, antimicrobial, and antibacterial. As such, it could promote skin healing and ease the symptoms of conditions like acne, psoriasis, and eczema.(13)
Unfortunately, tucking into this blueberry cobbler recipe is not an effective way to enjoy these benefits! But the good news is that adding lavender water to your skincare routine is simple. Unlike essential oils, you don't need to dilute it before applying it topically.
We particularly love using lavender water as a toner. Try transferring it to a spray bottle and applying liberally after washing your face and before moisturizing it. Another option is to pour a little onto a cotton pad, and gently wipe your face with it. Both methods should help to clear and brighten your complexion.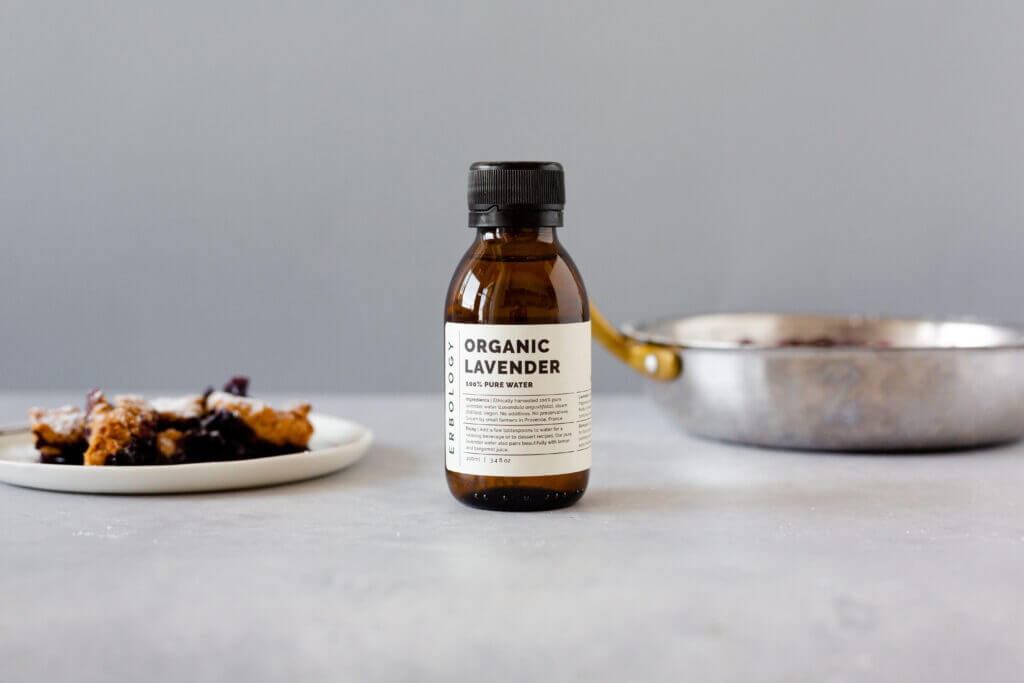 Say hello to our organic lavender water
We craft our organic lavender water using only the finest plants, sustainably grown on small farms in Provence, France. Lavender has been part of the local tradition there for generations, and we're delighted to be involved with it.
Our farmers pick the plants by hand, and then steam distil them. We use approximately 1kg of fresh plant matter to make one litre of delicately fragranced lavender hydrosol. Of course, we don't add any preservatives or other unwanted ingredients – so what you get is 100% pure lavender water.
Once ready, our team pours the herbal water into environmentally friendly amber glass jars. These help us minimize our impact on the planet, so please reuse or recycle yours once they're empty!
We love how well the delicate floral scent and flavor of lavender water complements this blueberry cobbler recipe. However, you don't have to bake the dessert every time you want to use it! The simplest way to enjoy lavender water is to mix a few tablespoons into sparkling water, tea, or cocktails for a delicious and relaxing drink. Our top recommendation is to add some to hot chocolate for an extra-indulgent bedtime beverage!
In terms of taste, lavender goes especially well with citrus fruits like lemon and bergamot. It also pairs beautifully with chocolate, as well as berries – like in this blueberry cobbler recipe. So have some fun with it, and see which drinks and dishes you enjoy lavender water in the most. All you need to do is swap normal water for herbal water in the recipe – it couldn't be simpler!
Serving tips for this lavender blueberry cobbler recipe
One of the fabulous things about this lavender blueberry cobbler recipe is that it's a year-round dessert. Because you have it warm, it can chase away the chill on a dark winter night. But because it's fresh and fruity, it also gives off summery vibes. If you're serving this blueberry cobbler recipe during hotter weather, a scoop or two of ice cream is a perfect accompaniment. In fact, we've got a raspberry and lavender ice cream recipe that would pair beautifully with this dessert!
Speaking of raspberries, one way you can customize your blueberry cobbler recipe is by mixing up the fruit you use. Blackberries, strawberries, plums, peaches, and raspberries all make fantastic choices. Likewise, you could swap the lemon juice for lime or orange. It's possible to use frozen fruit when making the dessert if you prefer. Just remember that if you don't thaw the berries completely first, it will add more liquid to your blueberry cobbler recipe.
So, why not embrace the origins of the dish and try whipping up a cobbler with whatever fruit you have in the house!