Adding mushrooms to your hot chocolate might seem like a bit of a strange idea. But try it once and you'll be convinced! In our recipe, we take an indulgent, creamy vegan hot chocolate and boost it with the power of adaptogenic mushrooms.
Which mushroom to choose?
Our easy hot chocolate recipe works with any type of adaptogenic mushroom powder. Here, we've used Lion's Mane, but you could easily substitute in reishi, cordyceps, turkey tail or our Immunity Blend powder. Harnessing the adaptogenic powers of eight different mushrooms, it takes the guesswork out of choosing the right mushroom for you.
While they are all adaptogens, each mushroom has its own special qualities. This allows you to really hone in on a specific issue you want to address. Lion's mane, for example, is linked to cognitive health and mood, while cordyceps is known as more of an energiser.
We have lots of information about medicinal mushrooms over on Erbology Editorial, where you can find out about the different types of mushroom and what they all do. If you're new to adaptogenic mushrooms, we suggest you start with our simple Erbology guide to medicinal mushrooms.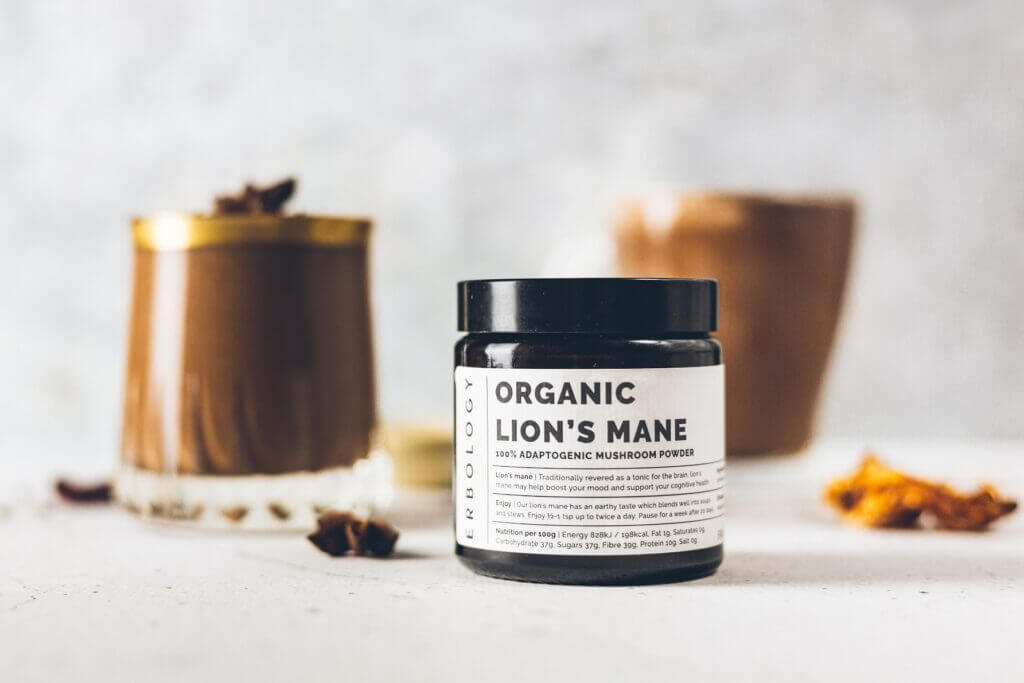 Why put mushrooms in hot chocolate?
The idea of a mushroom-hot chocolate combo strikes many people as a bit strange the first time they hear it. However, there's actually a very good reason why this unusual recipe works so well.
Adaptogenic mushrooms tend to be different from the type of mushrooms you might see in a supermarket or grocer. They often have a very tough, woody texture which makes them unsuitable for cooking and eating, or they have a bitter flavour.
Thousands of years ago, when these mushrooms were first used for their medicinal properties, they would have been consumed in a tea or tincture. However, the taste wasn't particularly pleasant.
It's best to consume the powder mixed with something that can mask the remaining bitter flavour. Strong flavours which already have a hint of bitterness to them, like cocoa and coffee, work brilliantly.
Adapt our adaptogens!
Like many of our recipes, our hot chocolate is meant to be played with. If you don't like almond milk, sub in oat, or even coconut milk for a tropical flavour. Want to avoid sugar? Maple syrup or honey would work well as sweeteners.
The same goes for the spices. Here, we've taken inspiration from the early origins of chocolate; the Mayans, the first civilisation to consume chocolate, often combined it with chilli and other spices for a kick of flavour. However, feel free to mix up your spices. A hot chocolate simply infused with a cinnamon stick is delightful. A vanilla pod lends a nostalgic flavour which takes us straight back to our grandma's house.
You might be surprised to see a little sea salt in our ingredients list, but trust us. It helps to bring out all the flavours of the ingredients and tempers the sweetness of the drink.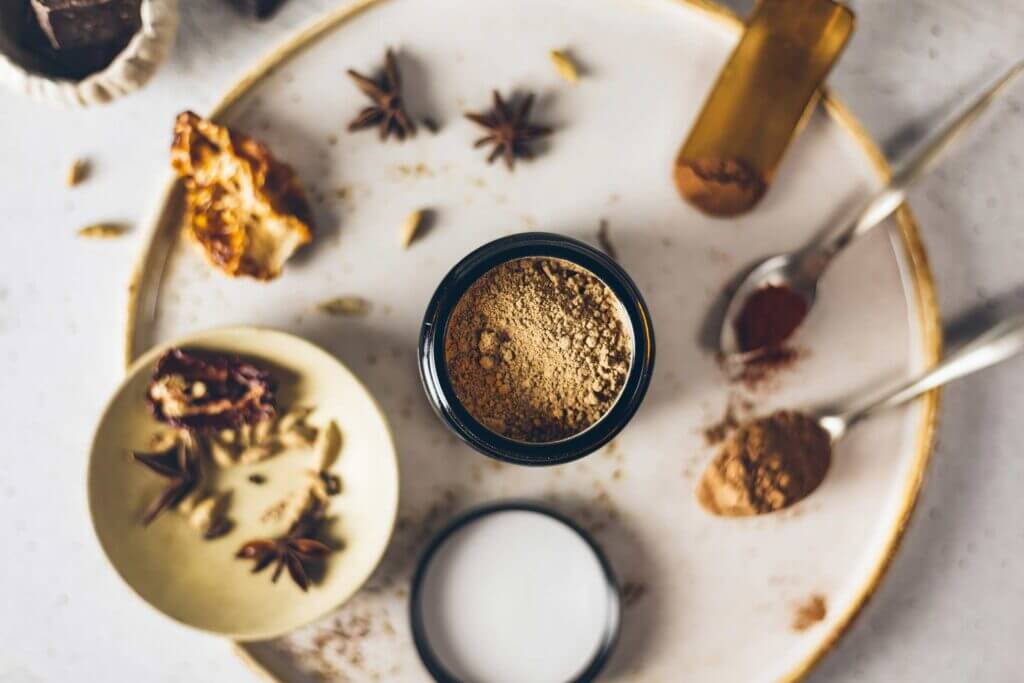 A healthy hot choc?
While we won't be advising you to drink our indulgent hot chocolate every day, there are plenty of reasons to feel good about enjoying it when those chocolate cravings hit.
Firstly, you'll feel the benefits of the medicinal mushroom you've chosen. Whichever you go for, all of our mushrooms contain an exceptionally high level of beta-glucans. These are the special polysaccharides which scientists believe are responsible for many of the health benefits of medicinal mushrooms.
But don't forget the benefits of cacao, too!
Minimally processed cacao powder, like the kind we've used here, has many health benefits. Cacao is packed with antioxidants and minerals like copper, magnesium, iron and potassium.
All of these are needed for your overall wellbeing. What's more, the minerals may help protect you against high blood pressure and a build up of plaque in your blood vessels.(1)
In short, you can happily settle down on the sofa with a warming mug of our hot chocolate and the knowledge that you're doing plenty of good for your body.