This Sicilian salad recipe is simple, refreshing, and surprising.
Compare cooking to other creative forms. Food is enduring. Sure, there are food fads. Food tastes differently in different times because of changes in our world. However, the fundamental textures and flavours as well as the profound satisfaction that they give don't really change. A beautiful meal is soothing and nourishing to the soul like nothing else. However, we love rediscovering ingredients. Do you revisit old cookbooks or recipes that you referred to religiously but have drifted away from? You'll know what we mean. You've loved and left a lot of foods and dishes. Did you think of them as unsophisticated? Did you move somewhere that wasn't amenable to the food? Stop considering it healthy anymore? Whatever the reason was, it's a lot easier - and probably much, much more pleasurable - taking up again with a food from your past than it would be taking up again with an ex-lover. Okay, we'll get to the point now. Iceberg lettuce inspired the above few paragraphs. We used to eat it in the Eighties and Nineties in the US, when it was usually covered in ranch or Thousand Island dressing. Further, salad bars at chain restaurants and school cafeterias always had wilted iceberg lettuce. No other leaves on offer. Spinach, rocket, endive, corn salad, radicchio, romaine... when we met them, all of these leaves seemed wonderfully exotic and intensely flavoured, not to mention jam-packed with many more vitamins. Iceberg was readily abandoned. Or was it?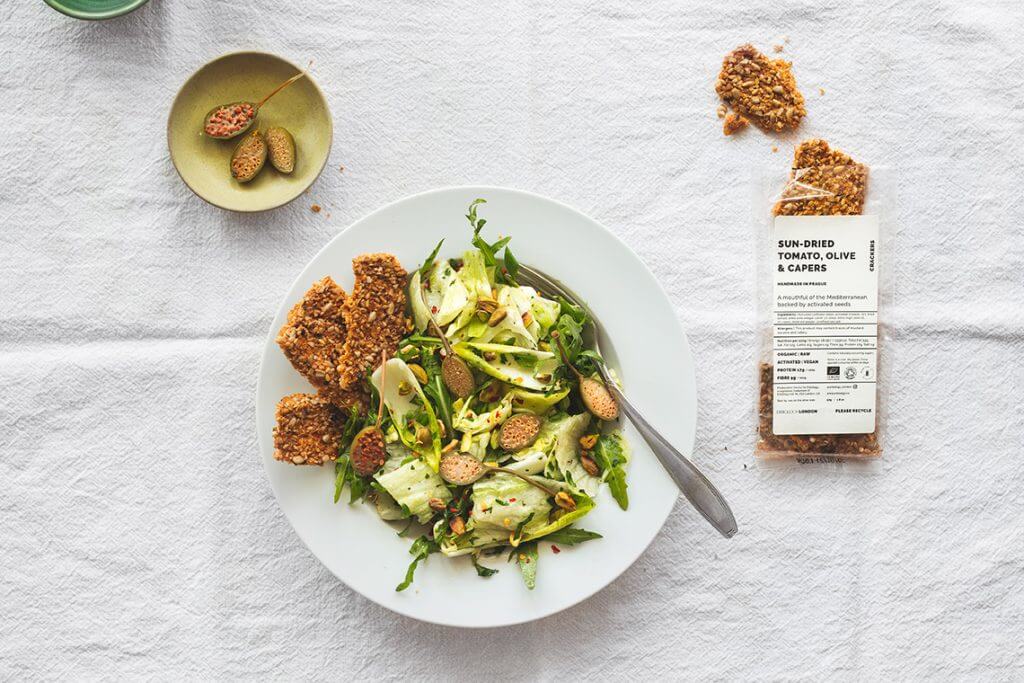 Sicilian salad with Erbology Sun-dried Tomato, Olive & Capers crackers.
Ice ice iceberg
Recently, we realised that at its best (read: not as served in those lame salad bars) iceberg is wonderfully crisp and refreshing as all hell. It's the only thing for really hot days. To clarify, put it into the same category in your cook's head (or salad-making head) as you would watermelon or mint. And guess what? Iceberg lettuce is very healthy, no matter what you were told. Firstly, it's of course hydrating thanks to the high water content. And that's not all. Iceberg lettuce does offer up significant amounts of vitamin C, beta-carotene, vitamin K, and calcium, among other nutrients.(1) And those other, alluring leaves? Iceberg lettuce goes beautifully with many of them, as it does in this Sicilian salad recipe. Moreover, the kick of capers, the heat of peperoncino flakes, and the gentle sweetness of pistachios lets the leaves shine on their own. Don't get us wrong - we love very few things more than a salad bowl loaded with all manner of ingredients, coming together in a flood of flavour. But that old chestnut (or that new pistachio!) that says variety is the spice of life is really, really true. As the world stops and the sun shines down, make this simple salad. Add fresh green onion and clean parsley. Dress with extra virgin olive oil and lemon juice, the salad dressing you'll always come back to. Grind fresh black pepper over and take a pinch of rough sea salt between thumb and forefinger. And fill yourself with brightness and realness. Enjoy this Sicilian recipe salad with Erbology Personalised Crackers.